Grapefruit's Health Benefits
By Betsy Hornick, MS, RD
Tart and tangy with an underlying sweetness, grapefruit heralds some impressive health benefits. This tropical fruit, named because it grows in grape-like clusters, comes in several varieties with flesh color influencing its nutritional qualities and benefits.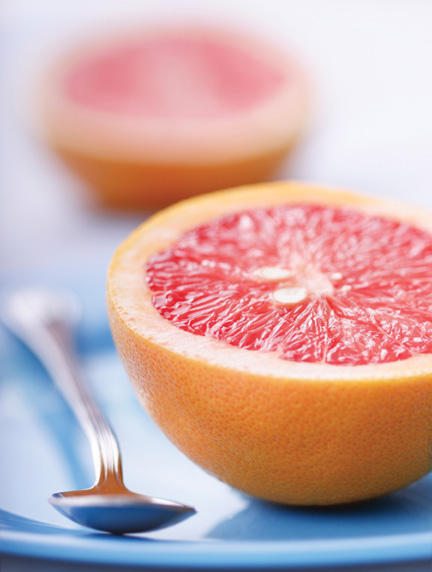 One half of a large grapefruit has only 50 calories but is packed with more than half a day's supply of vitamin C and some fiber, potassium, folate and pantothenic acid. The pink and red varieties are full of vitamin A. The rich red colors of grapefruit are due to the carotenoid lycopene, which is just one of the more than 150 phytonutrients found in grapefruit. Grapefruit and its juice are also loaded with antioxidants, but grapefruit juice lacks the fiber found in the whole fruit. The soluble fiber-rich pectin in grapefruit may help lower cholesterol levels and red grapefruit has been shown to lower elevated triglyceride levels.
Grapefruit's powerful antioxidant activity has been linked to protecting against colon and lung cancer, preventing cardiovascular disease, improving lung function in people with asthma, boosting liver enzymes that clear out carcinogens, and repairing damaged DNA in prostate cancer cells.
Although the "grapefruit diet" has been debunked as a magical fat-burning weight loss plan, the low glycemic index, fiber-rich, low-calorie nature of grapefruit may reduce insulin levels and help dieters feel full and eat fewer calories. Beyond that, there is no evidence that grapefruit contains fat-burning enzymes.
However, research links drinking large amounts of grapefruit juice to a possible increase in the risk of breast cancer. In addition, compounds in grapefruit can interfere with enzymes that metabolize certain drugs, increasing the potency of several prescription drugs including statins, antiarrhythmic agents, immunosuppressive agents and calcium channel blockers.
Using Grapefruit in the Kitchen
By Dawn Jackson Blatner, RD, and Renee Rogers, RD
Plump with glossy skin, these tart and tangy citrus fruits are available year round but are at their best from winter through early spring. Grapefruits are available seeded or seedless and come in many varieties characterized by the colors of their flesh, ranging from white to bright pink to red. Any discoloration or scratches on the skin may affect its outward appearance but will not impact taste, texture or quality. The juiciest grapefruits are shiny, heavy for their size with a thin, fine-textured skin and will spring back when gently pressed. Avoid grapefruits that are rough-skinned and puffy with soft spots because those are typically dry and less flavorful.
Grapefruits are juiciest when they are slightly warm rather than cool, so store them at room temperature if you are planning to use them within a day or two, or in the refrigerator crisper for up to two weeks. Grapefruit's flesh can be eaten raw and the skin can be candied or used in marmalade recipes. Grapefruit's flavor works well with salad greens, avocado, fish, ginger, honey, walnuts, mint, basil and cilantro. Add grapefruit segments to salads or mix grapefruit juice with club soda and add mint leaves for a fruit spritzer. Its tangy juice also brightens sauces and dressings.
Using Grapefruit in Food Service
By Kyle Shadix, MS, RD, ACF
Many steam tables across the country hold the same foods, but what makes foodservice leaders stand out is their ability to differentiate their menus from the mundane. One way to make an impact is to use fresh fruit as an ingredient in recipes. As we enter peak grapefruit season, consider buying fresh grapefruit to energize your menu. Not only does it remind diners of the summer ahead, but the flavor of fresh citrus when combined with other ingredients has tremendous appeal.
Imagine house-made salad dressings featuring citrus fruits, such as Grapefruit Citrunette. Fresh grapefruit segments sprinkled with diced purple onions and freshly chopped cilantro go great with fish such as halibut or bass. Or create a grapefruit and avocado salsa for grilled jerk chicken, roast pork or tuna steaks.
For dessert, think out of the grove and add grapefruit segments to your cheesecake mix, or make a citrus cobbler with a 10-pound can of drained mandarin oranges and grapefruit sections. For a tangy twist on institutional cake, muffin and cornbread mixes, substitute liquids with citrus juice and add chopped grapefruit.
No special tools are needed for fresh grapefruit. Use a serrated knife and slice from the top and bottom to reveal the flesh. Stand the grapefruit upright and saw downward through just the skin, following the contour of the fruit, to remove the peel and white pith. Cut the grapefruit into segments, and use as desired in recipes.