Nutritional Benefits of Flaxseed
By Mark Hennen, Camila Fletcher and Jamie Bommarito, RD, LD
A good source of omega-3 fatty acids and fiber, flaxseed may be small, but its health benefits are big.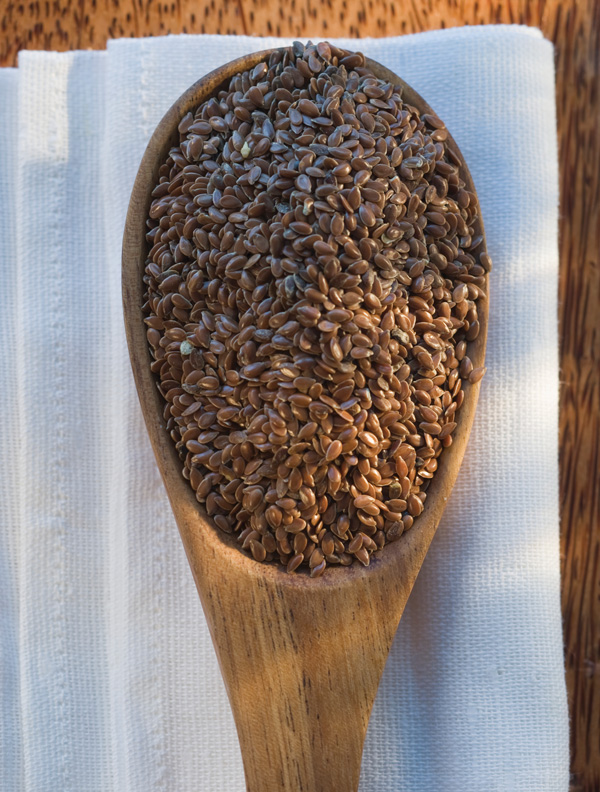 Diets containing omega-3 fatty acids may help lower cholesterol, reduce inflammation and lower the risk of certain cancers. Fiber present in the seeds has been shown to have laxative properties when consumed with the recommended nine to 12 cups of fluids per day. (Without consuming enough fluids, complications such as constipation or intestinal blockages may occur.)
Nutritional properties of flaxseeds vary depending upon how the seeds are consumed. Whole seeds provide fiber (one tablespoon of whole flaxseed has up to 1.2 grams of soluble fiber and up to 2.4 grams of insoluble fiber), but the body cannot break down whole seeds to access theomega-3-containing oil. Ground seeds will provide the benefits of both omega-3s and fiber (one tablespoon of ground flaxseed has up to 0.9 grams of soluble fiber and up to 1.8 grams of insoluble fiber). Flaxseed oil provides the omega-3 benefits, but not fiber since the seed is not consumed.
Some side effects reported with the consumption of whole or ground flaxseed are possible interactions with some drugs, including statins, cyclosporine, NSAIDs and blood thinners. While there is no specific recommendation for flaxseed, the Adequate Intake for alphalinolenic acid is 1.1 grams per day forwomen and 1.6 grams per day for men. (One tablespoon of ground flaxseed or 1 teaspoon of flax oil will meet this AI.) And a recent study indicates that a diet fortified with flaxseed oil (8 grams per day) may lower blood pressure.
Cooking With Flaxseed
By Kris Widican, MS, RD
Flaxseed contributes a nutty flavor and richness to a variety of foods. Slightly larger than sesame seeds and ranging from dark reddish brown to a deep gold, whole flaxseeds make a crunchy garnish. If allowed to sprout, flaxseeds add a spicy bite to salads. Store them for up to a year in a dry, well-ventilated area or in the freezer.
Flaxseed oil may be used in salad dressings and smoothies or added to cooked products off the heat, but do not sauté with flaxseed oil; it has a low smoke point and quickly breaks down. Buy flaxseed oil sold in refrigerated, dark bottles.
For milled flaxseed, grind whole seeds to a smooth consistency in a coffee grinder or food processor, or purchase pre-ground seeds sold as "flaxseed meal." Use milled flaxseed to subtly enhance the flavor of oatmeal, yogurt or applesauce. Milled flaxseed can also substitute for eggs or fats in many recipes. (3 Tbsp ground flaxseed = 1 Tbsp fat, and 2 Tbsp ground flaxseed mixed with 3 Tbsp water = 1 egg.)
Using Flaxseed in Food Service
By Deanne Brandstetter, MBA, RD, CDN
As customers become aware of functional foods and the health benefits of flaxseed increases, foodservice professionals can include flaxseed in your menus in a number of creative and delicious ways.
One of the easiest options is to offer hot or cold cereals and homemade baked goods containing flax seed. Or offer flaxseed as "add-ins" and toppings for smoothies, juice bars, yogurt and fruit bars and salad bars (which often drives a premium price point). Another interesting way to use flaxseed in foodservice is as a coating ingredient for chicken, fish and other protein items, lending a unique flavor and crunch to an "oven-fried" menu item.
Local produce or natural foods vendors may be more likely to offer flaxseed since they carry a variety of grains and seeds. Consider flaxseed a perishable and purchase in smaller quantities (1- or 2-pound sleeves) and grind on-site to ensure fresh product. To prevent rancidity or spoilage, store in a dry, cool place or refrigerate.