Fennel's Nutrition Information
By Sharon Denny, MS, RD
Fennel has a long history as a folk remedy, particularly the small, dried fennel fruits (also called fennel seeds) and the essential (volatile) oil extracted from the fennel plant.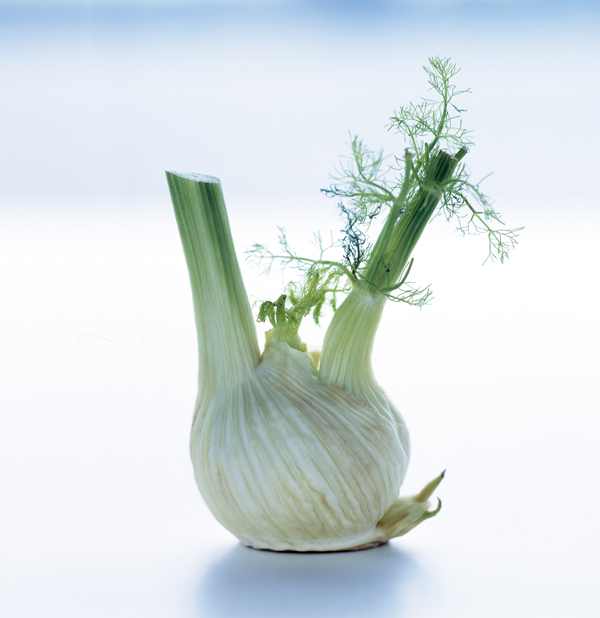 For medicinal purposes, fennel is best known as a digestive aid to treat feelings of fullness, dyspepsia, flatulence or spastic disorders of the gastrointestinal tract. Fennel has also been used to treat colic in infants, to increase lactation in nursing mothers, to promote menstruation and to treat coughs and upper respiratory infections, although clinical information on this is limited.
Preliminary evidence indicates fennel may stimulate gastrointestinal motility or act as an antispasmodic. Additionally, components of fennel have been shown to reduce upper respiratory congestion. Potential adverse reactions to fennel include allergic reactions affecting the skin such as dermatitis or photodermatitis, nausea, vomiting, pulmonary edema, seizures and cross-sensitivity in individuals who are allergic to carrots, celery or related plants.
There are also potential drug interactions with fennel. Because an extract of fennel lowers arterial blood pressure, combining it with antihypertensive medication could be dangerous. Additionally, fennel has been shown to reduce the absorption, distribution and elimination of the antibiotic ciproflozacin. And components of fennel may have estrogenic effects and should be avoided by people with hormone-sensitive conditions such as certain types of cancer.
Cooking with Fennel
By Regina Ragone, MS, RD
Fennel has an identity problem. The bulbous green and white vegetable with celery-like stems is sometimes known as "sweet anise" but is no relation to the pungent, pint-sized herb of the same name. Though they both have a licorice-like flavor, fennel is much subtler than anise and works wonders in bringing out the true flavor of a food.
Native to the Mediterranean region, this member of the parsley family is one of Italy's most popular vegetables. Most fennel in U.S. supermarkets comes from California and has a bulbous base, stalks resembling celery and feathery leaves. Look for small, heavy, white bulbs that are firm and free of cracks, browning or moist areas. The stalks should be crisp, with feathery, bright-green fronds.
Rich in vitamin A, calcium, phosphorus and potassium, the entire fennel plant is edible. Thinly sliced fennel adds a refreshing, crispy touch to salads. Grilling, braising, sautéing, roasting or grilling mellows the flavor, making it an excellent side to chicken, fish or meat. Fronds can be chopped and used as herbs in place of parsley or dill.
Fennel in Food Service
By Karen Jacobsen, RD
It's a crudité... a salad... a side dish... a sauce! Florence fennel, or finocchio, can be an alternative for foodservice operators looking to add seasonal vegetable variety to the menu.

While fennel's sweet, crisp bulb is often used raw in salads, it can also be roasted, grilled, sautéed, braised or baked and served as a side to complement fish or poultry. The stems and leaves –which have the subtle licorice flavor that fennel is known for – are not to be forgotten. Toss the feather-light leaves into sauces and soups for a delicate herb flavor or use themas a garnish. The stalks and leaves can also be used as a bed to roast fish or other meats.

Fennel's peak season is late fall to early spring, but you can generally order fresh fennel year round. Baby fennel is attractive for specialty presentations, though its high cost and low yield makes it impractical for most regular menus. Fennel is available in either 12-count or 24- count cases. Store fennel unwashed for up to five days in a closed container or plastic bag in the coolest section of the refrigerator.