Beans and Health Benefits
By Keith Ayoob, EdD, RD, FADA
Rich in protein, calcium, phosphorus, folate and iron, popular varieties of dried beans include black beans, chickpeas, kidney beans, pink beans and pinto beans.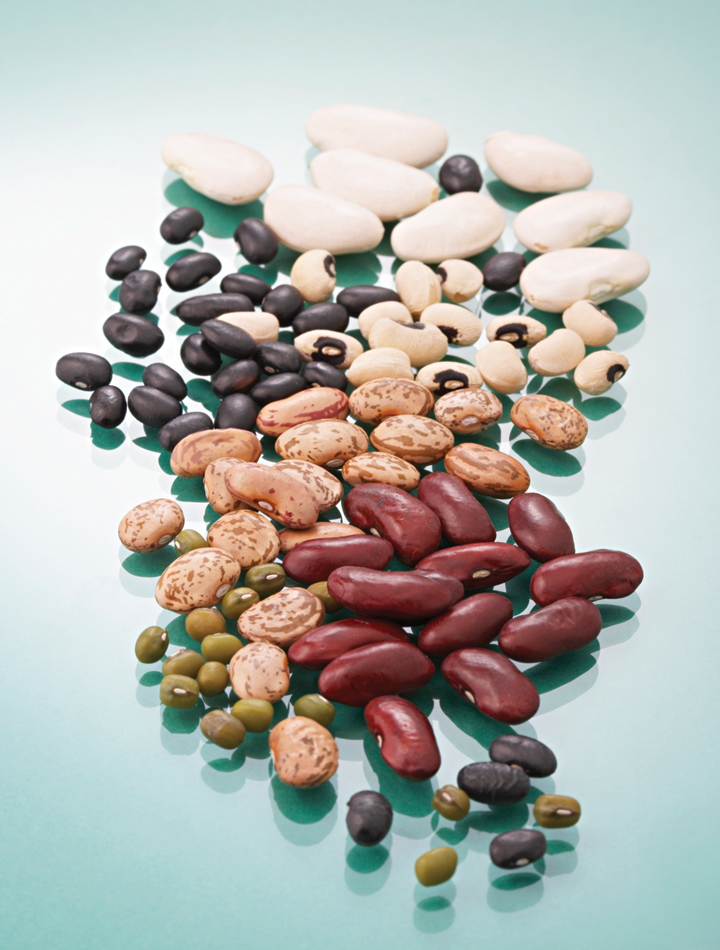 They are full of complex carbohydrates (yet low-calorie and fat-free) and can play a key role in weight management by providing energy and satiety that lasts. Eating beans also may reduce the risk of heart disease and help reduce serum cholesterol.
Beans are a great source of insoluble and soluble fiber (half a cup has up to 8g of fiber), promote a healthy digestive tract and may reduce the risk of some types of cancer. These high-fiber and complex-carb vegetables can help control diabetes and maintain healthy blood glucose levels.
But beware: Beans also contain oligosaccharides, or sugars which normal stomach enzymes cannot digest and are fermented by bacteria in the lower intestine. To mitigate the resulting gassy effects, introduce beans into the diet gradually but regularly.
Cooking with Beans
By Maria Caranfa, RD
From soups, chili and casseroles to dips, salads and sides, there are a billion ways to love beans. These little powerhouses add texture, color and flavor to nearly any dish.
In addition to Latin-American recipes, global cuisine brings new bean applications to the American kitchen. They have even made their way onto the dessert tray. Add black beans to brownies or chocolate cheesecake or navy beans to white cheesecake for a decadent earthy flavor. Red beans can be mixed with sugar (known as Adzuki beans in Asian cuisine) and served cold with sweet flavors such as creamy coconut and cool mango.
Many cultures grind beans into flour for savory breads, substantial noodles and baked goods. Bean flour can be sprinkled into soups for a creamy base or added to cookie or cake mixes. (Even the pickiest eaters won't guess they're eating beans!) Bean flour is also a good wheat flour substitute for people with celiac disease.
Using Beans in Food Service
By John Luna
Beans are a staple in foodservice. For one thing, you can store dried beans for up to a year and canned beans for up to two years. Just as convenient is their cost: one cup of cooked dried beans is about $.08 and canned beans are about $.20/cup. A case of canned beans usually have six #10 cans and contain about six and a half pounds of cooked product including liquid (13 to 14 cups). Dried beans, which come in a case of six 5-pound bags, grow 2 to 3 times in size when cooked.
Using canned beans in food production is pretty straightforward: in many recipes, you just remove the lid and maybe rinse or drain. Dried beans can be prepared in three ways: you can cook them directly from a dry state (which can take 5 hours or more); use the "long soak method" (sitting in water for at least 8 hours) or try the "short soak method" (boil beans for 3minutes, cover and set aside for 2 hours. Change the water, bring beans to a boil then simmer until fork tender (a few hours).
Note: Their permeable skin means beans will absorb nearly any flavor, but salt or acids will toughen skins and prolong cooking, so do not add until beans are soft. Also, the foam created when cooking beans is water-soluble protein that will soak back into the beans.