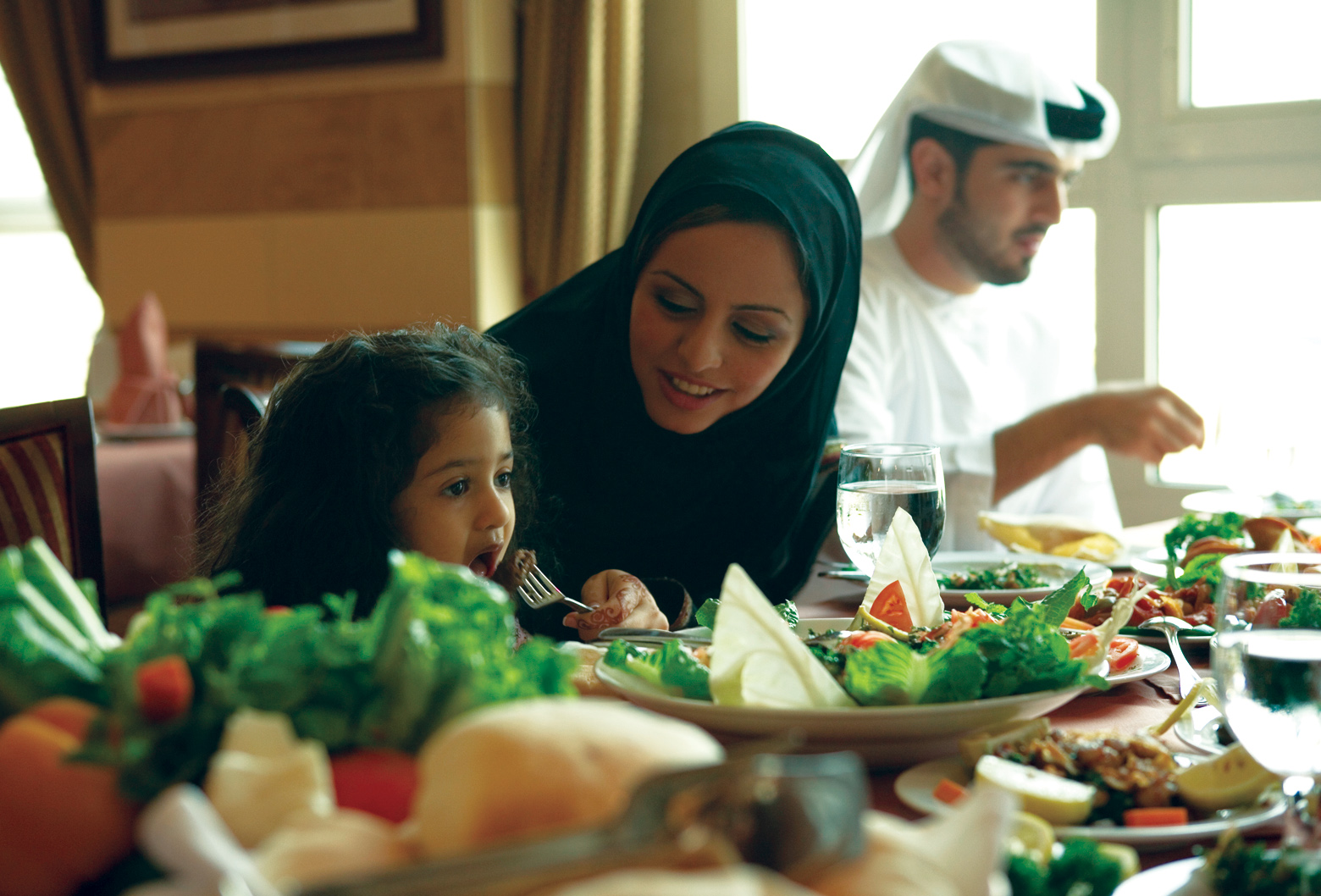 Familiarity with the unique customs and needs of communities is the cornerstone of culturally appropriate health care. Religious guidelines may influence dietary practices, but the rich diversity of ethnic backgrounds—from Asian to Middle Eastern, African to European and, more recently, Hispanic and Latino—predominantly governs the culinary traditions and cuisines of America's 8 million Muslim citizens. The Islamic sector is one of today's fastest growing consumer markets, giving food and nutrition professionals the opportunity to lead in their fields and address the unique needs of Muslim Americans.

That Muslims all eat the same foods and follow the same traditions is a common misconception. Americans are a unique blend of traditional and contemporary customs, underscoring the importance that culturally competent clinicians ask questions about every client's background without making assumptions. For Muslims, inquiries into ethnic origin and adherence to cultural and religious traditions are critical pieces of information to accurately assess and tailor nutrition care plans. In addition, finding out if they are native-born or foreign-born can help assess the degree of possible cultural assimilation.

Approximately 36 percent of Muslim Americans were born in the United States. As with many first generation Americans, native-born Muslims may not follow the same food traditions as their parents. Although health disparities in Muslim communities around the world are well-documented, little research has been conducted among American Muslims specifically.

Muslim Consumers: The Newest "It" Market
From salad dressings and snack foods to ice cream and cheesecakes, food brands are not only seeking halal certification, but are reformulating products to meet halal standards. One example is Cabot cheese, which last year replaced rennet (derived from the lining of calves' stomachs) with a microbial-based enzyme that mimics rennet in all Cabot cheeses to appeal to Muslim consumers and qualify for the halal seal of approval.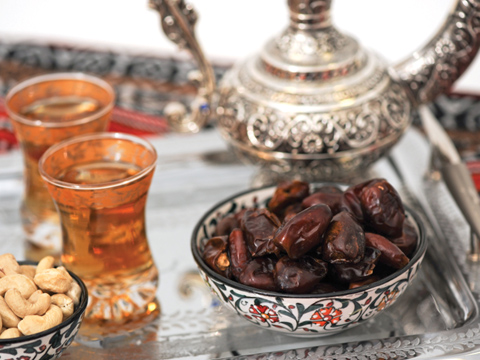 Food marketers are not the only ones lining up to tap into the Muslim market, which reportedly is worth more than $2 trillion a year and growing annually by $500 billion. Manufacturers of products such as toothpastes and mouthwashes, vitamin capsules and personal care products have also sought halal certification.

A new arm of advertising, marketing and public relations giant Ogilvy & Mather, Islamic branding consultancy Ogilvy Noor (noor means "light" in Arabic) recently released the study Brands, Islam and the New Muslim Consumer, available for about $10 thousand. Ogilvy also reported Muslim consumers' perceptions of major brands in the Noor Global Brand Index 2010. At the top of the list were Lipton, Nestlé, Kraft, fruity soft drink brand Mirinda and 7-Up. Heinz, Pepsi and Coca-Cola also appeared in the list of top 20 "Muslim-friendly" brands.

Who Are Muslim Americans?
Despite recent political and media attention on Muslim American communities, Islam in fact has a rich history in the United States. Muslims first came to the country in the 1700s on West African slave ships, followed by immigrants from Yemen and Turkey in the 1840s, Syria and Lebanon from the late 1800s into World War II, and Egypt, Pakistan and other countries in the 1960s. After the tragic events of September 11, Muslim immigration rates declined significantly. However, conversion rates to Islam in the U.S. increased as people became interested in learning more about the religion. It is estimated that more than a quarter of the Muslim American population is converts.

Achieving cultural competency with this population begins with an understanding that Islam is a religion, not an ethnicity, and that Muslim clients can be of African American, Arab, European, Southeast Asian, Caribbean, Turkish, Iranian or Hispanic or Latino heritage, and more.

Religious Dietary Guidelines
While the cultural cuisines and everyday diets of Muslim Americans are as diverse as their ethnic backgrounds, practicing Muslims share similar religious dietary guidelines, according to the Quran.

The Arabic word halal—which literally translates to "permissible"—indicates that an object or action is permitted under Islamic law. Food that is not halal includes pork, alcohol and improperly slaughtered animals (see sidebar on page 13). Fish and seafood are considered halal by most Muslims, and other food including fruits, vegetables, dairy, grains (as long as they don't contain pork- or alcohol-based products) and fats (except lard) are halal. A couple of decades ago, it was fairly simple to differentiate halal from haram ("forbidden") packaged foods. For example, Muslim Americans knew to avoid marshmallows and gelatin unless they were labeled as halal or kosher because they contain porcine gelatin. However, with recent advances in food science, many products may contain less obvious haram ingredients, such as emulsifiers, enzymes, preservatives and flavorings that are alcohol-based or come from pork origin.

As a result, several organizations are developing halal certification programs. One of the best known programs belongs to the Islamic Food and Nutrition Council of America. IFANCA scientists research ingredients in food products and monitor food processing to certify whether they meet halal guidelines. While halal certification is a relatively new phenomenon, more national brands are going through IFANCA's halal certification process to display the halal seal on products, including Cabot's cheese (cheese often contains rennet of pork origin) and Tom's of Maine toothpaste and dental floss.

Guidelines for Halal and Zabiha Meats
While pork and anything containing pork-based products is never halal, most other meats commonly found in the U.S. can be halal under certain requirements. First, animals cannot have died before being slaughtered, such as from illness, malnourishment, accident or attack from another animal. Also, halal animals must have been treated well in life, given plenty of food and water, and never mistreated. Strict adherence to Islamic law requires the slaughter be carried out by a Muslim and following rituals that include reciting the name of God over each animal. However, according to the Quran, meat can be halal if slaughtered by ahl il-kitab (People of the Book)—meaning Christians, Jews and people of other faiths in which God is believed to have sent down a holy scripture. Therefore, Muslims will often consume kosher meats if halal-labeled meats are not available, and many Muslim Americans will consume non-pork meats from mainstream supermarkets in the U.S. with the assumption that because the country has a Christian majority, the meat was most likely slaughtered by a Christian.

But not all Muslims are comfortable with basing food choices on probability, so they use a term to define meat from a permissible animal (halal) that was slaughtered according to Islamic law (zabiha or thabiha) as Zabiha halal, although there is no official certification agency for Zabiha halal meats.

Ramadan and the Practice of Fasting
Another religious tradition that affects diet is fasting during the holy month of Ramadan every year, occurring at the ninth month of the lunar-based Islamic calendar. Because Ramadan shifts approximately eleven days earlier each year on the solar-based Gregorian calendar, Muslims experience Ramadan in different seasons throughout the course of their lives.

The act of fasting is meant to remind Muslims of the less fortunate and to reinforce the need to be thankful. As one of the five pillars, or duties, of Islam, fasting during the month of Ramadan is mandatory for all healthy adult Muslims. Children who have not reached puberty, the elderly, those who are physically or mentally incapable of fasting, pregnant women, breastfeeding mothers and travelers are exempt. Fasting during Ramadan means abstinence from all food or drink, including water and chewing gum, from dawn to sunset. It is recommended that before sunrise, Muslims eat a pre-fast meal known as suhur. This meal often resembles breakfast, but in some cultures it may include more dinner-like foods. After sundown, Muslims break their fast in a meal called iftar, which usually starts with dates and water or milk followed by a dinner meal. Muslims are permitted to snack at night between these two meals and hydration is encouraged, especially when Ramadan falls during summer.

For suhur and iftar and snacks, registered dietitians should recommend that Muslim clients eat high-fiber meals to sustain satiety over longer periods, fruits and vegetables to maintain electrolyte stores and plenty of fluids to maintain hydration. Muslims should also limit fried foods and sugary sweets, the latter of which is a common cultural tradition among many ethnicities during the holy month. After Ramadan, Muslims celebrate a three-day holiday called Eid-ul-Fitr. On this Eid ("celebration"), Muslims pray the holiday prayer in congregation in the morning, visit family and friends and celebrate over food, gifts and activities for children.

Islamic Nuances for Dietetics Practice
Understanding certain non-dietary beliefs of Islam also can help registered dietitians effectively counsel Muslim American clients. For example, gender relations in Islam are centered on mahram, which includes family relatives by blood or marriage. Although there are exceptions, most physical contact between non-mahram females and males is not permissible. Do not initiate a handshake with a Muslim patient of the opposite gender unless they first extend a hand. This also applies to hugging, even without direct skin contact, but other acknowledgements such as nodding or waving are fine. During verbal consultations with Muslim clients of the opposite gender, it is best to leave the door ajar (although not wide open as patient privacy is still important). Ideally, any assessments involving physical contact should be performed in private by a practitioner of the same gender.

Awareness of Islamic beliefs can help practitioners not only during office visits, but in making appropriate recommendations to Muslim clients. For example, some Muslims will not be comfortable exercising at a co-ed fitness facility, so consider recommending activities that can be done at home in private, or in public but that do not require exposure of the body. It also may be helpful to research Muslim-friendly facilities with designated hours (including pool hours) for men or women. Gyms for women-only or men-only may also be appropriate for Muslims as long as windows are not transparent from outside and members of the opposite gender (maintenance workers or mail delivery, for instance) do not enter the workout space.

Another example is that some Muslims' cultural traditions may hinder breast feeding initiation and success. However, stigmas about breast feeding would reflect ethnic culture, not Islam. In fact, breast feeding is recommended in the Quran, even though some Muslim women may not be aware of this. Education on the short- and long-term benefits of breast feeding for both mother and child can help encourage its practice.

As with other communities of faith, degrees of religious observance can vary widely among Muslims. Still, most are usually happy to answer questions about Islam and personal adherence if they are asked with respect and good intentions. There is much opportunity for working with Muslim Americans, and registered dietitians are excellently poised to lead in research and counseling for this population.